Whilst enjoying a holiday in one of our cottages a visit to the lovely village of Clovelly is high recommended, here are some of the events happening in 2016:
Yarn-Bombing
July 01, 2016 to July 31, 2016
Visit Clovelly during the month of July and enjoy di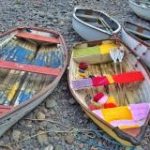 scovering the yarn-bombed areas of our famously picturesque fishing village.
The *tight-knit* community of Clovelly residents have been busily preparing a 'blooming' lovely project. Yarn-bombing the village, with the help of people from all over the UK & abroad, who are donating beautiful yarn samples! The white knitting of Celebrity Design Guru, Laurence Llewelyn Bowen, will have pride of place in a very special, secret feature of the Clovelly Yarn Bomb.
The village will look even more colourful than usual, with knitted donkeys, seaside garlands and crocheted 'cobble-cosies' plus much more. This unusual project is part of Clovelly's entry to the 'Britain in Bloom' competition and is in aid of the Devon Air Ambulance Trust.
Yarn Bombing is a type of street art that employs colourful displays of knitted or crocheted yarn rather than paint or chalk. Yarn installations can be easily removed if necessary.
Lifeboat Weekend in aid of the R.N.L.I.
August 06, 2016 to August 07, 2016
Held in aid of the RNLI, this popular event is a celebration of the Clovelly lifeboat and its volunteer crew.
The Lifeboat House will be open to visitors and there'll be operational displays by the Clovelly lifeboat. It's a fun-packed weekend with games, competitions, entertainments, food and drink, music and other family fun in and around the harbour.
September Sailings aboard historic vessel, Irene
September 04, 2016 to September 19, 2016
Experience life at sea and the exhilarating pleasure of sailing aboard the historic vessel, Irene, along the stunning coastline of Clovelly or to Lundy Island this September. Enjoy lending the crew a hand by hoisting sails, trimming jibs and steering the ship. No experience necessary – just come along for the fun!
Lobster and Crab Feast
September 04, 2016
Clovelly celebrates its famous lobsters and crabs sustainably caught by its fishermen with a great day out for all the family.
Choose from a variety of crab and lobster dishes cooked on the quay or book a table at the Red Lion Harbour Restaurant and dine on delicious lobster and seafood platters.
There'll be live folk music, chef cookery demonstrations…
Apple Day
October 28, 2016
Bring a bag of apples, watch them being pressed, taste the juice outside the Visitor Centre, or bring more for pasteurisation and bottling. On entry to Clovelly, children can also enjoy apple games, crafts and an apple modelling competition with prizes.
Clovelly Herring Festival. 10th Anniversary
November 20, 2016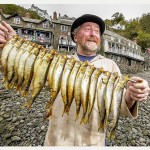 Clovelly was once a major centre for herring fishing! Our annual Herring Festival is held to promote these tasty, nutritious 'Silver Darlings' and support carefully managed fishing as carried out by our local fishermen.
The village once depended on the harvest of herring, which are caught in superb condition for a short season off its coast. Records go back over 400 years and in 1749, there were a hundred herring boats in the port. When fishing was good 9000 herring could be landed at one time. Those days of massive catches are long gone and there remain just two herring fishermen who still employ sustainable fishing methods using drift nets and long lines.
Maritime historian and writer Mike Smylie will return with his 'Kipperland' exhibition, which is devoted to the history of the herring. He will also be turning herring into delicious and delicate-tasting kippers and bloaters in his smokehouse.
There will also be net making, flax processing and a curragh on show provided by 'Flaxland'.
Enjoy a wide variety of herring dishes in the quay kitchens or at the Harbour Bar. Cookery demonstrations, live shanty and sea song singers, stilted entertainers, other local food. Craft stalls, a photographic exhibition of Clovelly herring fishing, a Herring Hunt, face painting, henna tattoos and National Trust event-themed, free craft activities.
Clovelly Gig Regatta
July 30, 2016
The West Country boasts a long tradition of racing pilot gigs. Gig racing is exciting and strenuous, with crews reaching speeds of 9 knots in North Devon's powerful tidal waters. You're assured an exhilarating day's racing. So come along and cheer on the brave crews
Woolsery Agricultural Show
July 25, 2016
Summer in North Devon would not be complete without a visit to this ever popular show.
A fun-filled day packed with a programme of activities. Classes include crafts, cattle and sheep, together with horse and pony competitions. There will be a Dairy Marquee with displays such as yoghurt and ice cream making and the chance for children to "milk a cow" along with competitions. You'll find bustling trade stalls offering locally made crafts and food with fairground rides and a bouncy castle for the children. There'll also be a family dog show, a display of hounds, the Young Farmers' "It's a knockout" and to finish the day, a parade of vintage farm machinery.
It's a great summer day out for all the family
Clovelly Maritime Festival in aid of the N. Devon Hospice.
July 17, 2016
The day will be full of fun and packed with a programme of all sorts of activities and entertainment for all ages. The 'Clovelly Gun Run' starts the event from the harbour to Victoria Fountain. Then there'll be lively music, street entertainment, crafty creations, sea sea-themed story telling, puppet shows, family activities and a workshop about exploring the great outdoors.
On the quay, there'll be seafood kitchens and a range of food and art & craft stalls.
The North Devon Yacht Club will be participating in the first Clovelly Cup Race. There is also a chance to have a go in a gig with the Clovelly gig team.
Free entry for under 16s if they come dressed as a pirate, mermaid, salty sea dog or fish wife.Under 7s have free entry anyway, but we would love it if they come dressed up too. So do come along and enjoy this fun-packed day out in support of the North Devon Hospice.