Devon beach named the best in Britain by TripAdvisor for the second year!
(and if you go now you'll probably have it all to yourself!)

TripAdvisor's Travellers' Choice Awards has named the breathtaking Woolacombe Britain's best beach.
This glorious beach is a spectacular gem right on our doorstep, and is attracting visitors all year round.Woolacombe Britain's best beach in Devon is the number one in the UK, for a second year in a row.
The quieter, and some might say even more beautiful, Putsborough Sands is located at the far end of the beach.
Backed by sandy hills and the Woolacombe Downs, the beach boasts a three-mile long stretch of golden sand and rolling, unbroken surf which makes it the ideal hotspot for surfers. The sheer length of the beach means that there is no shortage of sand to sit down and relax on during the busy summer months.
1. Woolacombe Beach, Devon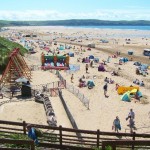 Woolacombe Beach has received the best reviews and ratings from travellers, landing it the number one spot again in the top 25 beaches category in the TripAdvisor 2016 Travellers Choice Awards. One person said: "Three miles of heaven. In wild weather, it is beautiful. In good weather, it is a delight." The beach is part of the beautifully unspoilt north Devon coast which has protected status as an Area of Outstanding Natural Beauty.
It boasts nearby parking, surf hire, showers and toilets. There are also plenty of cafes, pubs and shops nearby.
At the Putsborough end of the beach there is surf hire, showers, parking, toilets, and beach shop and cafe. There is also the beautiful award wining Putsborough Manor Holiday Cottages for visitors who want to sample the delights of this amazing part of the world!
The Travellers' Choice Beaches Awards were determined by the quality and quantity of traveller reviews and ratings for beaches, gathered over 12 months.